I woke up this morning in the "bunk room" at my Auntie Ann's lake house in New Beraunfels. I was on the bottom bunk, Ellie asleep on the top, MJ had slept soundly all night on the bean bag chair. Now he was whispering in my ear, "Mommy, I'm gonna go outside and listen to the birds." I love that my son is such a naturalist – getting excited about cardinals and hummingbirds, silently watching for fish jumping in the still lake on a foggy early morning. As I walked to join him with pink-pj'd Ellie at my side, I breathed in the wetness of the rain-soaked earth mixed with all the blooming flowers of spring, and gave thanks for the peace. In our family, we do love the earth!
This week at school, I celebrated spring weather and "Earth Day" by holding music outside in a courtyard with the children…it was a nice change from my little window-less, music room with flourescent lights. It sort of felt like a vacation, sort of…(There was the child who stepped in and discovered the ant bed on the path, the piles of sticks which several boys turned into weapons, and the dog poop on MY shoe!) Still, it was a lovely setting to sing songs about nature, to listen to sounds and signs of God's creation all around us, and to say "Thank You" to Dear Mother Earth for all her gifts!
I read a new favorite story-song book, introduced by a little music box that plays the same tune, "What a Wonderful World". The book includes very colorful illustrations of children putting on a puppet show with the help of special musician friend Louis Armstrong himself. Each time we spotted Louis on a page, the children would say, "Hi Louis!" get info on the book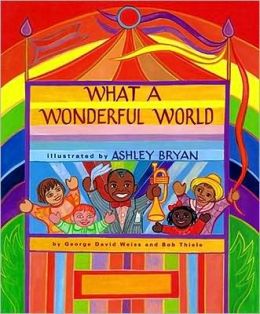 I read the book at the "Wee Volunteer" Earth Day outreach project at the Pebbles Apartments with some formerly homeless kiddos after we planted some flowers, and the kids learned to sing along to the refrain, "And I think to myself, what a wonderful world." Just a good positive sentiment to have handy in your brain, don't you think?
It's just such a lovely way to teach a lovely song, and I'm happy to say that I've overheard my own kiddos singing it around the house this week. In fact, I heard Ellie singing it as she relaxed in the bath tub and MJ singing it as he fed and stared at the fish on Earth Day evening. I definitely needed that gift for my spirit after a long, hard day…Ellie had a tantrum that ruined our special snack date at White Rock Coffee, the backseat bickering escalated to a whole new level that nearly pushed me over the edge, MJ had difficulty not being in charge of the outreach project himself, Ellie's flower pot broke and caused more tears,  MJ represented "Earth"  by coming out in his pj's wearing Ellie's blue and green bows in his hair, much to her dismay. "But it's for the ocean and the land! I'm Earth!"As is the norm for my life with these 2 blessed little ones, our day together was full of scenes and messes made, lots of fussing, but also lots of SONG! Thank God for that.
This song stirs up warm feelings and memories for many of us, and I'm glad to pass it on to a new generation. I danced with my Gigidad to this song at my wedding reception in 2003, and then sang it to him as he lay dying 7 years later, so it certainly holds a special place in my heart. I found this great video of the song sung by Louis you could play for your kids as you watch images of our "wonderful world" – just GORGEOUS- Enjoy, and pas on your own thought and memories of this song to your children: watch the video