I'm continuing on my mission to welcome my brother Jake and his family back to Dallas after 10 years away in Chicago. Towards that end, Here are 10 (plus a few new ones) of our favorite "family" restaurants in Dallas…
Please post a comment to share your own family's favorite spots!
Our kids ask for Jason's Deli. We do the salad bar here, and they can try a variety of healthy foods this way – salad, veggies, fruit salad, hummus –  followed up by some of the yummy little muffins and frozen yogurt. And, if you're just doing the salad bar, you can skip the line! We've never done the kids' menu, but I checked it out, and it has lots of nutritious choices. Just make sure you have a helper! (As I mentioned in my post, "Can't Take the Kids Anywhere?". ) Jason's Deli is where I had this particular "Aha" moment .
Did you know kids eat free on Tuesday evenings? And they can definitely share a healthy meal – big servings, and you might have enough to take home leftovers (get the delicious fruit instead of fries). On other days our kids enjoy the independence of choosing their own foods at the salad bar, and we like exposing them to a variety of healthy foods – falafel, hummus, fruit, couscous, dolmas, hard-boiled eggs, etc. We sit outside or upstairs looking out onto the shoppers. They learn to throw their own trash away, and sometimes we bribe them with gelato afterwards (and do a little grocery shopping).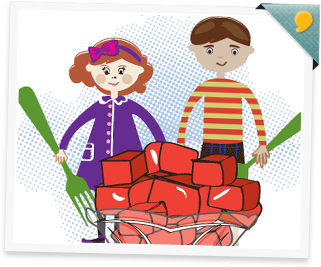 Luby's – this is our spot to meet the grandparents. You can look at your food to select it, which helps in our effort to "eat a rainbow" (make healthy choices by eating a variety of colors – green beans, yellow corn, brown wheat roll, pink fish, white milk, blue jello).  We can get right to the table to eat, and then share some of our selections. The helpful staff will be there to roll the high-chair, carry the tray, get you extra silverware…Plus they have balloons and crayons. Here, the children can learn the importance of leaving a tip for the under-appreciated water lady. Let them place the cash on the table at the end of the meal, and remind them to say "thank you". It will make her day!
Zuzu's – not only is it fun to say, but they have fresh, healthy, colorful, affordable and fast food in a low-pressure environment. (Black beans, corn salad, quesadillas, water with lime and mint.) I first took MJ a couple of years ago when it was "Letter Z" week at our house. Now, my kids go there at least once a week with Daddy or grandparents. If the weather's nice, they eat outside. (But inside, they have can color with crayons, sample the different fresh salsas, or zone out on the cooking channel (even if we try to face them away from TV's.) If they eat a good meal, I give them the cash and independence to choose an ice cream treat from the cooler, and buy it themselves at the counter.

The Lot Restaurant – This is the NEW spot to be in East Dallas if you've got young kids, but I would wait til the fall! It is built on an old country club lot, where they have filled in the pool areas with sand for the kids to play on! Lots of outdoor dining, live music in the beer garden on the weekends, good food, good drinks, and a good time!
Nazca Kitchen: I just recently discovered this new restaurant on Walnut Hill, just off Central, and it's delicious! There is a fountain on the patio and they welcome children to try some healthy South American food!
Nice patios for nice weather, yummy weekend brunch food. (We like the "cloud cakes", but there are also healthy options.) Buy a newspaper and sip your coffee while the kids play in the playhouse or climb on the jungle gym. Chili outside? Buy the kids some delicious hot cocoa to sip in the playhouse, and let them color their cup while it cools. You won't be the only urban parents there. visit their website
This is our family-friendly, neighborhood cafe just down the street in Lake Highlands. They have daily specials, healthy home-cooked comfort-foods, big sheets of paper and crayons, art on display, and an easy-going atmosphere. The hummus platter with veggies, pita bread, and grapes makes a good appetizer. Catch up with neighbors, sit on the patio, and order home-made ice cream in the summer.
We've discovered that this spot just off Central and Knox is a healthy, easy place for kids. You get your food fast, and there are lots of fresh, healthy, Mediterranean tastes for them to explore on a sampler platter. Our kids actually eat up the cauliflower, and love the kabobs.
We first went to Potbelly with baby MJ in my brother's family-friendly urban Chicago neighborhood of Lincoln Park – walking there all bundled up alongside other bundled tots in strollers and babies in Bjorns, and immediately warming up with live music, warm soup, and toasted sandwiches. And now we have them in Dallas!  This is a fun weekend lunch spot for us. Find out when your neighborhood Potbelly has live music. Not only will this help to keep your child entertained, but you can teach them how to make a request and how to thank a musician by tipping them. Ask at the counter for an extra brown bag and crayons so your child can make a sack puppet (their website says to). Good vibes, great sandwiches.
So, I grew up going to this family-friendly hamburger joint. We loved building our own burgers, pumping out our own ketchup and cheese, giving out a silly name for them to call when our order was ready like Madonna or Godzilla (though now they just use numbers:(, and turning in our coupon for a free cookie of our choice. Here, your kids can split a kid-sized burger and fries, and honestly, you should order one, too. The "Big Kidz" burger is big enough. We (kids included) make our meal slightly healthier by adding little salads on the side from the condiment bar with shredded lettuce, diced tomatoes and onions, and honey mustard dressing. Big tables, plenty of space, remind your kids to bring some change from their banks at home to play games (if they want to play more than one), and everyone should eat and leave happy.
Delicious (burritos!), nutricious (guacamole, black beans), fast and easy, inexpensive, share-able, sustainable, local, "food with integrity". When you eat there with your kids, talk about what this means: supporting local farmers who respect the land and animals. see their website for some neat pics and explanation of "free range" animals, local, organic farms, etc.
What are your family's favorite dining-out spots? Please Comment!

Another spot I WANT to try: The Garden Cafe in Munger Square, with fresh food from their own garden and great patio seating, serving breakfast and lunch…
Check out my other posts with favorite Dallas spots:
And more tips on dining with Kiddos: