And not the kids themselves…..
SNOW (well, ice) DAY # 2 in Dallas for our family. I was hoping Friday morning would start out by sleeping in for ALL of us, but MJ had other plans and awakened me and Ellie for a 6am party! I managed to snooze a while longer after getting them settled with cereal and TV. Daddy had to brave the roads before most at 5 am to be with dying patients all day, poor guy. Very sad time of year to lose loved ones, but at least the families have a kind doctor to help them through it. My "good tidings" from yesterday are playing with neighbors outside, trying to sled on cookie sheets, licking frozen leaves, and sliding down the ice slide! Building a fire with MJ, and reading the Little House on the Prairie Christmas chapter with the kids snuggled in my lap. Relaxing and finishing a good novel myself, Remarkable Creatures by Tracy Chevalier. Reading Unwrapping the Christmas Creche by Lisa Flinn and setting up the nativity sets with the kids.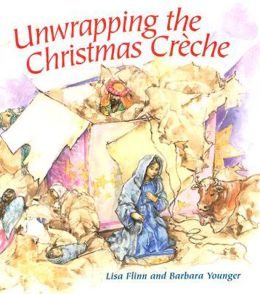 Watching Day #6 of the online Jacquie Lawson Advent Calendar which my Aunt Alaire sent to us, and takes us into the world of an old and grand English country house as preparations for Christmas are made. We learned about the tradition of Christmas pudding and were inspired to make the MUCH simpler instant JELL-O vanilla pudding, stirring the spoon and making a Christmas wish!  The kids have entertained themselves by wrapping many "gifts" put under the tree. Really, they are just items from around the house….hmm, maybe that's where my wallet has gone! This morning, I'm quite relieved that I didn't have to get up early and make it downtown to lead music for the kids at church preceding the Downtown Christmas Parade that passes by FPC Dallas. But, all the other activities I had in my back pocket have been canceled, too! I've seen many comment that they are starting to go cabin crazy inside with the kids. Here are a few ideas to help you keep your sanity! Enjoy and  pass along….OR get out and join us for a night at The Anatole in Dallas, for outdoor ice skating and their "Sparkle" Celebration! 1. Work on your "Intentional Giving" gifts – record some Christmas songs and stories for your friends, make some crafty ornaments or homemade Christmas cards, cut out snowflakes for friends, bake cookies for teachers and family. 2. Go caroling to your neighbors – bundle up, grab some keys for jingle bells and spread some holiday cheer! 3. Make a paper chain! See how long you can make it for your tree of hall or to deliver later to a nursing home. Write down someone's name on each strip before you staple as you say a prayer or make a Christmas wish for the people you love, and even for strangers around the world! 4. Play "Name that Christmas Tune" with dice. Roll the dice and name that tune in 1-6 notes! (Great for building internal control as you try to stop humming "Jingle Bells" just 2 notes in…) 5. Play "Hide the Ho's!" (Well, in our family we have 3 wooden "Ho's" for "Ho! Ho! Ho!", of course.) Apparently, one of our "ho's" was left out in the cold garage last night after Ellie hid it…What can you find to hide? An elf or jingle bell? Guide the seeker with hot/ warm/ cold directions. A lot of kids have never learned this, and it's also great for teaching internal control. 6. Play "Christmas Charades"! Act out a favorite Christmas character, song, movie, etc. 7. Play "Guess the Christmas Shape"! "Draw" a shape on your child's back, tummy, or hand: candy cane, present, star, tree, wreath… 8. Tell some Christmas stories around the fireplace or tree- THE first Christmas, your child's first Christmas, a favorite childhood Christmas memory, those passed on to you by parents and grandparents, the stories of the ornaments on your tree…make up some stories of your own, too! The Christmas Eve that Santa sent and elf to ask your kids for extra help, the Christmas that Santa delivered a live dinosaur under your tree, the Christmas that Santa sent you a time machine…etc. 9. Write a "Christmas Mad Lib!" Here is one that our family did on a road trip last year. I asked Daddy and the kids to brainstorm words for household objects, kitchen appliances, favorite TV characters, body parts, directional prepositions (that one was lost on the kids), etc. and what we ended up with gave us all a good laugh….
'Twas the night before Christmas and all through the house, not a creature was stirring, not even a kitty cat.
The dinosaur pictures were hung by the chimney with care in hopes that Olivia soon would be there.
The children were nestled all snug in their beds while visions of sugarplums danced in their shoulders.
And Ma in her kerchief and I in my cap had just settled our hands for a long winter's nap.
When out in Chicago there arose such a clatter, I sprang from my bed to see what was the matter.
Away to the panini press I flew like a flash, tore open the shutters, and threw up the spoon.
The moon on the breast of the new-fallen snow gave a luster of mid-day to objects above.
When what to my wondering spleen should appear, but a miniature sleigh and 8 tiny dogs.
With a little old driver so lively and quick, I knew in a moment it must be Mr. Rogers!
More rapid than eagles his coursers they came, and he whistled and ran and called them by name:
'Now, Dasher! Now, Dancer! Now, Prancer and Vixen! On, Comet! On, Cupid! On, Donder and Abraham Lincoln!
To the top of the porch to the top of the table! Now dash away, dash away, dash away all!"
10. SCIENCE and ART EXPERIMENTS! My neighbor filled spray bottles with food coloring and water to take outside with the snow and ice. The Perot Museum sent out this suggestion since they are closed today.
Cold Air, Warm Air
Ever wonder why warm air rises and cool air sinks?
Materials you will need:
Plastic water bottle (16 ounce size)
Balloon
2 medium-sized mixing bowls
Ice water
Hot water
Directions:
Place your balloon over the opening of your water bottle, completely sealing the top of the bottle.
With the help of an adult, pour heated water (not boiling…be careful) into one of the medium-sized mixing bowls. Fill the bowl about half way.
With the help of an adult, pour water from the tap into a medium sized bowl with 10 or so ice cubes about halfway.
Place your water bottle with balloon into the bowl with heated water, submerging the bottom half of the bottle. Wait a couple of minutes. What happens to the balloon?
Remove the bottle from the water, and let it cool to its normal temperature.
Place your water bottle with the balloon into the bowl with ice water, submerging the bottom half of the bottle. Wait a couple of minutes. What happens to the balloon?
Explanation:  Heating the molecules in air cause them to move faster and spread out. Heated air molecules expand and need more space, so it stretches out the balloon. When air molecules are cooled, they move slower and closer together. Cooled air molecules contract and need less space, so the balloon deflates. Since warm air requires more space than cold air, it is less dense, which causes it to rise.