…Happy Earth Day, Mother Earth, We'll take care of you! "… IDEAS FOR FAMILIES AND TEACHERS!
Today with my students I sang the ""Mr. Rogers" birthday song with "Earth Day", but you could do it with the regular one, too. Then talk about different ways to take care of the earth "not just today, but every day", as the Mr. Rogers song goes. I also read sang the beautiful story-song book, "What a Wonderful World". (Read more about how to teach/ incorporate this with your own children/ class: "What a Wonderful World in Song and Story".)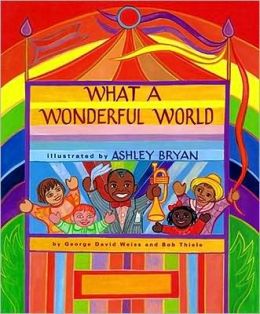 How are YOU celebrating Earth Day with your kids? This morning, after making sure all the lights were turned off, we rode our bikes to school!  (Actually, Mommy jogged behind the kids, so I'm gonna sleep well tonight!) My Ellie (almost 5) came home yesterday with 4 R's on her mind: Reduce, Reuse, Recycle, and Refuse. Talk about these concepts at dinner tonight – on real plates, not styrofoam! Have a family picnic outside and give thanks for the many blessings of the Earth. While you're out, feed the ducks, pick up trash, plant a flower or seed. Here are some more ideas for you and your family as you connect with the Earth and with one another. 

Re-Connecting with Nature and with Your Family
Talking Points and Family Ritual Ideas for Earth Day or any day:
Writea "Thank-You" Note to "

M

other Earth", get your whole family involved, and find out what everyone appreciates most about nature. A rainyday? The smell of honeysuckle? The sound of  the wind? 

see mine

, which was featured on 

 

mamapedia 2 years ago?

Go for a "Listening" Walk or even a 5 senses walk (careful with taste!)around your neighborhood, or even in your backyard. Every now and then, "STOP, LOOK, and LISTEN"…What do you see? What do you hear? (Ask your children, even your babies, and give them a chance to respond.) Can you observe in silence together for even a few seconds? Can you mimic the sounds? What are your favorite sounds from nature to hear? Are there any sounds that you don't like? What do you think the creatures around you think about YOUR sounds? What do you smell? How does that feel? use my "Family Noticing Nature Walk"
Do some bird and bug watching together. Take along some binoculars (made out of TP tolls), a notebook, some colored pencils – observe, take notes, come back together, and look up more info on the species you found in a reference book or online together.  Did you learn something new together? Anything that surprised you? Did you find that you noticed more because you were paying more attention?
Set up an easel, a table with play-do or water colors, and quietly get inspired and create together in nature.
Go for a "Blessing Nature" walk. In addition to observing, give thanks for what you see, hear, smell, and touch. Say, "Thank you God for this creek. May it keep flowing gently, and God Bless the creatures and plants that rely on it." Read about my "Prayer Walk" in nature with MJ
Let your child start a collection: sticks, rocks, dried flowers, sea shells… Did you have any collections when you were young? Tell your child about them.
 "Tree-Hugger": With your whole family or just by yourself: Hug a Tree. Study a Tree. Name a tree. Plant a tree. Picnic under a tree. Read under a tree. Take a nap under a tree. Talk about the biggest tree you've ever seen. Do you have a favorite tree? or kind of tree? Have you ever lost a tree that you loved?
Ask some "What if.." questions. What if you could be any animal – what would you want to be? Plant? What if you could live by the ocean or in the mountains – which would you choose? What if you could travel anywhere on the planet – where would you want to explore? Rain forest? Desert? Antarctica? the Deep Sea?
Protect your child's "Green Hour" each day – unstructured time outside to explore, play, discover, use hands and senses. (As recommended by the AAP for the healthy development of our children.) Share this hour with them, and feel refreshed each day! (Or at least once a week.)
 Consider adopting the phrase "In our family, we help the Earth." Talk about how you plan to do this, what you're already doing, what more you can do. Compost? Recycle? No more paper towels or plastic bags? Car-pool? Have "Turn off the Lights Tuesday"? Mother Earth gives us, well, EVERYTHING? Shouldn't we be actively helping her each day?